What an attention-starved son learned while reconstructing the life of his distant dad.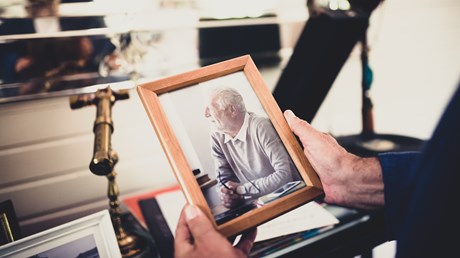 Our family is a bit raw this week. Packing your whole life into a U-Haul and leaving behind everything called "home" has a way of putting everyone on edge. We moved several times during my childhood, but this was my first time doing it as a father. I remember moving to South Florida in the third grade—the tears, the uncertainty, the upheaval. It's been hard to watch a familiar sorrow swell in the eyelids of my own kids.
As fathers, we dream of passing down wisdom, character, and faith, but so often we end up leaving our children an inheritance of pain, hurt, and unfulfilled longing. In his latest offering, Lament for a Father: The Journey to Understanding and Forgiveness, prolific author and longtime World magazine editor in chief Marvin Olasky reflects on this mixed blessing. "Many people … have unresolved conflicts with dads, living or dead," he writes. "So do I."
Olasky styles the book as an elegy for his own dad, a father "simultaneously present and absent." It's a work so particularly about one father that it ends up being about every father.
Who is to blame?
Eight brief chapters piece together a mosaic of Eli Olasky, a son of immigrants who grew up in a Jewish ward of Malden, Massachusetts, just outside Boston. Using the present tense, the author narrates the life of a school principal with a Harvard degree who settles into a life of comic books, bridge, frequent job turnover, and disappointing his wife. Aloof and stoic, he shows a mysterious lack of ambition.
A sense of melancholy weighs heavily over the entire book. The discoveries the younger Olasky digs out of Harvard archives, newspaper clippings, and family photo albums give his prose the yellowed …