Illinois pastor Stephen Lee was back in church on Sunday, thanks in part to fundraising help from a Christian advocacy group.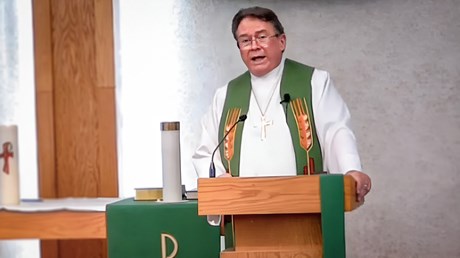 Living Word Lutheran Church in suburban Chicago had expected to be without its pastor on Sunday since he surrendered to authorities in Georgia days before.
Chaplain Stephen Lee bought a one-way ticket to Atlanta and turned himself in Friday on charges related to election interference, the last of 18 people indicted along with former president Donald Trump. He wore a clerical collar in his booking photo.
Prosecutors allege that Lee went to the home of a Georgia election worker in an attempt to sway her testimony.
Lee ended up being released on bail, backed by the prayers of his congregation and financial support from a Christian advocacy group.
"I just have to say this. I am just so proud of you folks. … We were planning on possibly my absence today, but you didn't skip a beat," Lee told the congregation in Orland Park, Illinois, where he has been serving for three and a half years amid a pastoral vacancy.
Last Sunday morning, he preached from Isaiah and Romans, and the church lifted up his family with "prayers of guidance and blessings as they work through their current struggles, and a prayer of thanksgiving for support."
Part of that support came from the Illinois Family Institute, which set up a legal defense fund to help cover 10 percent of his $75,000 bond for release. The Christian group has partnered with a company called Make Honey Great Again, which agreed to donate a portion of sales. Its honey comes in bottles shaped like Trump's head.
"You may like or dislike the bottle design, but it's filled with healthy, pure, raw honey and we hope the uniqueness of the packaging will generate awareness, prayers, and donations for Chaplain Lee," the Illinois Family Institute …