The newly accredited school promotes a theological education that's not at odds with culture.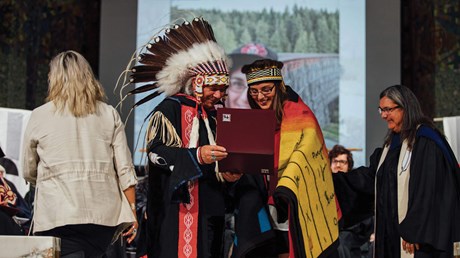 Much of Terry LeBlanc's adult life has been driven by one question: Can you be fully Indigenous and fully a follower of Jesus?
His answer has been a resounding yes.
Over the past three decades, he and others have built a seminary to offer theological education to Indigenous people in the United States, Canada, and the world, so that they can answer yes too.
NAIITS, previously known as the North American Institute of Indigenous Theological Studies, was founded in 2000 with a vision of seeing "men and women journey down the road of a living heart relationship with Jesus in a transformative way which does not require the rejection of their Creator-given social and cultural identity." In 2021, it became the first Indigenous school to receive full accreditation from the Association of Theological Schools. NAIITS can now offer accredited master of arts, master of theological studies, and master of divinity degrees, as well as doctorates in Indigenous Christian theology.
Last year, NAIITS received two grants worth $6 million from Lilly Endowment to do just that. The school will use $1 million to develop a master's program in trauma-informed spiritual care. The other $5 million will go toward creating the Canadian Learning Community for Decolonization and Innovation, a collaborative project with four other universities.
LeBlanc, who is Mi'kmaq-Acadian and holds a PhD from Asbury Theological Seminary, said NAIITS teaches people how to reimagine the relationship between faith and culture. The academic term is decolonization, which LeBlanc said doesn't mean diminishing the power of Jesus or the gospel, but making space for Indigenous perspectives and learning to see Indigenous identity and culture as …