Roe v. Wade opponents celebrate the Supreme Court's move to overturn federal abortion rights while raising concerns about the leaked decision.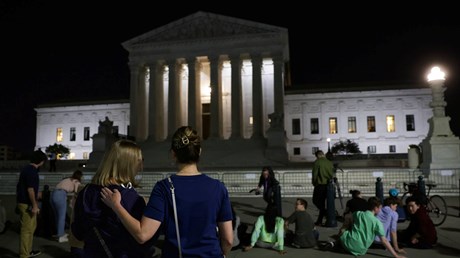 It's the moment pro-life evangelicals had been working toward for decades. It came in a way none were expecting.
A leaked decision to overturn Roe v. Wade signals a win for the sanctity of life and a potential blow to the sanctity of the Supreme Court.
On Monday night, Politico reported that the majority of justices are poised to strike down federal abortion rights in their upcoming ruling on a Mississippi abortion case. The source? A first draft of a majority opinion written by Justice Samuel Alito.
This early version of his 98-page decision, published on the outlet's website, doesn't just uphold the state's restrictions on abortion—as some had predicted the conservative-leaning court would do—but rejects the landmark Roe case as "egregiously wrong from the start," and returns the issue of abortion restrictions to state legislatures.
The court was expected to release its ruling on Mississippi's 15-week abortion ban in Dobbs vs. Jackson Women's Health Organization before its term ends in June. Having a draft of the majority opinion made public is unprecedented. The process is notoriously secretive. Even the timing of decisions, or how many decisions will be issued in a given day, aren't revealed in advance.
If the court's final ruling in this case is similar to Alito's leaked draft, it will represent the most significant move on abortion in a generation. Bolstered by Alito's arguments, the pro-life faithful are looking to the post-Roe horizon, when they hope fewer and fewer young lives will end due to abortion. Yet, their reactions are tempered with questions over whether the draft reflects where the high court will finally land, when the …