Evangelical churches in Poland transform into care centers, seek more funds for heat and fuel.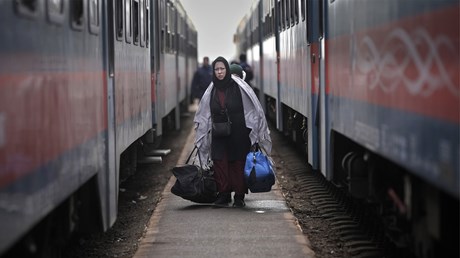 The United States will accept up to 100,000 Ukrainians fleeing Russian aggression, President Joe Biden announced Thursday.
Details of the plan are still being worked out, but both the US refugee resettlement program and the humanitarian visa program will be utilized, with an emphasis on reuniting families. The US hosts the third-largest Ukrainian diaspora in the world, after Russia and Canada.
Biden also pledged $1 billion in humanitarian assistance for Ukrainians internally displaced by the war.
World Relief, which has resettled 7,300 Ukrainian refugees—representing 4 out of 10 admitted to the US—over the past decade, welcomed the announcement.
"We are in close contact with many of these individuals, almost all of whom have loved ones now at risk in Ukraine," stated president and CEO Myal Greene in a press release, "and we're grateful that President Biden's announcement today seems to open up the likelihood of expedited family reunification and other avenues of protection."
World Relief also noted its current work with local churches in Western Ukraine, Slovakia, Romania, Moldova, Poland, and Hungary.
"Most Ukrainians who make the difficult decision to leave their homes are relatively safe in neighboring European countries, where most would prefer to stay, in part because they hope and pray to return soon to a safe, free Ukraine," stated Greene. "But for those who have family in the US or for whom voluntary repatriation is impossible, some may prefer the option of resettlement to the US, where we are also eager to welcome and support them as they replant their lives."
Over the past week, CT visited nine churches and church-run refugee …