Q&A with Heather Mercer who went on to work for freedom in Kurdistan and adopt a Kurdish son.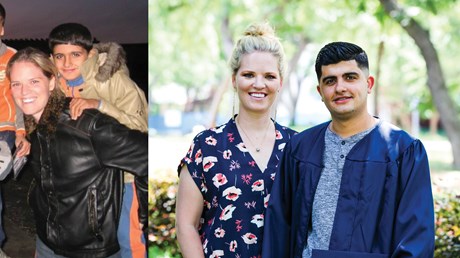 When she was 24 years old, Heather Mercer was one of two American women in a group of eight international aid workers and 16 Afghans captured by the Taliban. One month later, a terrorist organization protected by the Taliban launched a successful attack on the United States that shifted the course of history for both nations, and Mercer became briefly famous. She was, for a moment, a kind of icon of the American plight, hostage to this unknown group with unknown aims.
She and the other aid workers were rescued two months later, in November 2001. At the time, Mercer said she hoped her life would be much more than the story of how she was captured by the Taliban. In the past 20 years, she has worked hard to make it more, following her faith in a God who invites us into the work that will change nations and make history.
Now 44, Mercer talked to CT from her office in Kurdistan.
Have you been back to Afghanistan at all since you were rescued?
I have not. I have tried three different times to go back. And one time I got really close to getting my visa, and then the doors closed. I long to go back.
Why do you want to go back? What do you want to do there?
I really want to touch Afghanistan again. I left a piece of my heart there. Afghanistan was my first love. And I want to go back and see the people that were involved, see the Afghans that I knew and loved. There's one young woman that I was with in prison—I would love to try to find her. All of my memories of Afghanistan are filled only with fondness, gratitude that I got to experience it.
Did you feel that gratitude initially, or is this something that took 20 years of growth and healing? There must have been quite a bit of trauma as well.
I was young when I went to Afghanistan, …