Board leaders decide return of Christian university's president wouldn't be in its "best interest" after dueling accounts of a sex scandal make news.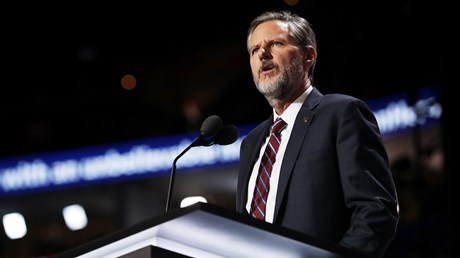 Monday was a big day for Liberty University. The school began the first day of classes as President Jerry Falwell Jr.'s name trended on Twitter due to recent news reports about the involvement of a young man in the conservative Christian leader's marriage.
Falwell had been put on leave two and a half weeks ago after sharing a provocative vacation photo on his Instagram feed. He told a Virginia publication this evening that he has been "enjoying" his break, "except for the press."
The new reports made it clear that it would not be in Liberty's "best interest" for him to return, the Christian college said Monday night in a statement.
Leaders from the board of trustees met Monday morning, then accepted Falwell's resignation later in the day—only to have him withdraw the decision, the college stated. Upon seeing news reports of him leaving his position at Liberty, Falwell spoke out Monday evening to call them "completely false."
According to a Wall Street Journal update posted shortly after midnight, the outgoing president reversed again to say that he would resign because he wants "what's best for the school," but that he was still due his full compensation.
Liberty's board confirmed on Tuesday that it had accepted Falwell's resignation through an attorney, and that its "heartfelt prayers are with him and his family as he steps away from his life's work."
"I call upon the University community and supporters to be in prayer for the University and for all its leadership, past, present and future, as we walk with the Lord through this stormy time of transition," said acting president Jerry Prevo, …