An Episcopalian law student on the team behind the Supreme Court victory and a Southern Baptist pastor are among the Dreamers celebrating Thursday's decision.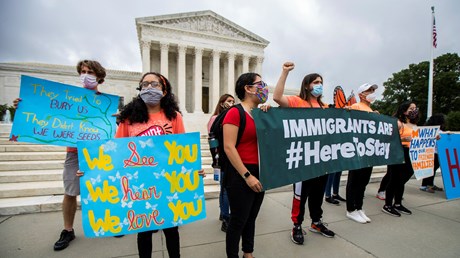 Among the thousands of immigrant Christians, church leaders, and advocates praying for a victory in this week's US Supreme Court decision on the Deferred Action for Childhood Arrivals policy (DACA), one was an Episcopal priest on the team who worked on the case.
Armando Ghinaglia is himself a DACA recipient, a native of Venezuela who was raised in Texas. A curate at Christ Church New Haven and a law student at Yale, Ghinaglia worked for the Connecticut legal clinic that argued against the Trump administration's rationale for rescinding DACA in 2017.
The Supreme Court ruled in its favor on Thursday.
The crux of the team's argument, Ghinaglia said, was how little effort appeared to have gone into the decision to end a program that would devastate so many. Under DACA, young people who were brought into the country before age 16 can apply to stay and work in the US legally as long as they are currently working, honorably discharged from the military, or in school. To qualify, they must have no felony convictions and fewer than three misdemeanors.
While the arguments against resciding DACA were personal to Ghinaglia and steeped in his Christian belief in the imago Dei, his legal team also knew that Chief Justice John Roberts would be the likely swing vote, and, "we figured John Roberts was not going to be emotionally sappy."
They stuck to a fairly dry defense, saying that the administration had violated the Administrative Procedures Act (APA), and the court agreed, 5-4.
"The ease with which people within the administration were willing to dispose of DACA residents" was insulting, Ghinaglia said. "I latched onto that."
"For something as simple as removing an animal from the …