What the 'AKA Jane Roe' documentary gets wrong.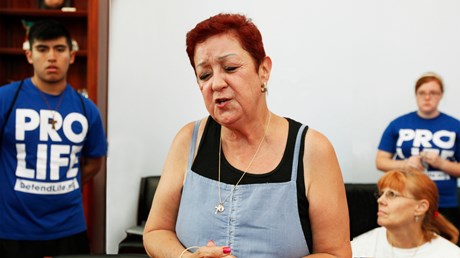 "In February 1970 I was Norma McCorvey, a pregnant street person, a twenty-one-year-old woman in big trouble," writes McCorvey in her 1994 memoir I Am Roe. "I became Jane Roe at a corner table at Columbo's, an Italian restaurant at Mockingbird Lane and Greenville Avenue in Dallas."
That short meeting with Sarah Weddington and Linda Coffee, two lawyers looking for the right case to strike a blow on behalf of abortion rights, would transform McCorvey's life. The following month, Weddington and Coffee filed a lawsuit against Dallas district attorney Henry Wade for enforcing Texas's abortion law and used McCorvey as their lead plaintiff. The case ended up at the United States Supreme Court, and on January 22, 1973, the justices overturned the law 7-2 and legalized abortion in all fifty states.
On that day, Norma McCorvey would become Jane Roe of Roe v. Wade—part symbol, part person, trapped in the maelstrom of history and the sound and fury of America's abortion wars. When she left the abortion industry for the pro-life movement in 1994, she made headlines across the nation. Now, again, McCorvey is making headlines as the bombshell subject of a new FX documentary, AKA Jane Roe, which claims that she changed her mind once again in the years before she passed.
In the film, producer Nick Sweeney tells a story in which McCorvey's relationship with the pro-life movement was strictly a financial one. In a series of interviews that she dubbed her "deathbed confession," McCorvey calls it all an "act."
"I was the big fish," McCorvey says in the documentary. "I think it was a mutual thing … I took their money and they'd put me …