Cinco lições para ser igreja, juntos, enquanto vivemos separados.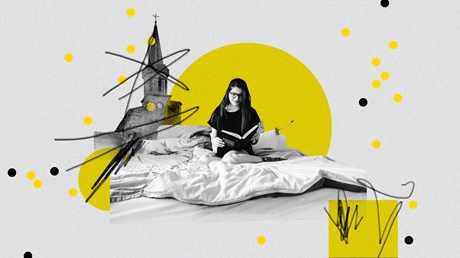 Quando eu tinha 15 anos, costumava escutar na rádio ao ensino evangélico conservador do programa Back to the Bible e assistir, na TV, ao Clube 700. Eu lia um livro dos pregadores de cura divina Frances e Charles Hunter, seguido de um livro do pastor romeno Richard Wurmbrand sobre perseguição. Também lia as Escrituras, com enfoque devocional, em uma tradução do Novo Testamento de J. B. Phillips e estudava minha Bíblia na tradução New American Standard.
Aquela era uma abordagem discipular muito pouco convencional para uma adolescente que seguia a Jesus. Mas, quando meus pais judeus me disseram: "Enquanto você viver sob o nosso teto, não permitiremos que frequente a igreja", deixaram claro o desejo de que a proibição acabasse com minha nova fé em Jesus, o Messias.
Nos primeiros três anos como crente, adorei sozinha no meu quarto, sendo alimentada pela pregação na rádio e por livros cristãos. Tornei-me adepta de fazer coisas escondida pela casa. Eu não pude frequentar a igreja regularmente até completar 18 anos. Até aquele momento, busquei ter a comunhão que me fosse possível com amigos na escola e em visitas ocasionais à igreja deles sempre que passava a noite em sua casa.
Nas últimas semanas, as regras de isolamento social do COVID-19 levaram a maioria dos crentes (embora não todos) para fora dos templos e para dentro de casa. Os membros de igrejas dos Estados Unidos agora estão participando de cultos, reuniões de oração e estudos bíblicos via Zoom, lives do Facebook ou pelo YouTube. Enquanto …