This season's greatest gift has nothing to do with discipline.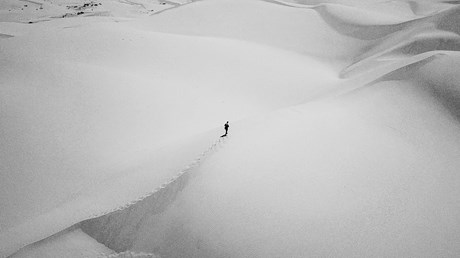 When I hit a desert season in my spiritual life some years ago, I felt haunted by the abundance I had left behind. I missed about 10 years of sermons due to pregnancy nausea, crying babies, toddler tantrums, dirty diapers that needed changing right in the middle of the service, or my own human sin. (At least I thought it was sin, but it was more likely total and complete exhaustion.) I was a frazzled mother who brought my children to church in their pajamas and often felt disconnected from Christ there and everywhere else.
At the time, I thought my spiritual dry spell simply reflected how poorly I was doing and how undisciplined I felt in the chaos of parenting young kids. I believed that my faith could only grow in abundance—the abundance of felt worship, prayerful focus, and passionate commitment. But I was wrong. It took me years to learn that the Lord speaks in silence. And years again to learn that he holds onto me more tightly than I hold onto him. And still more years to realize that grace is best understood in periods of apparent failure, absence, and desolation.
As I look back on those desert years, I see that hard-won truth for what it is—a Lenten lesson. Although we often think of Lent as a time of strict discipline and self-denial, it requires something much more: a deep understanding of our belovedness.
The life of Christ bears this out. In the story of his encounter with Satan in the desert, we often think Jesus had victory over temptation simply because of his divinity. But the early church had a different perspective. They believed the secret to Jesus' strength in the desert came from the event right before: his baptism in the Jordan River. Christ's endurance lay not in the abstract power …