Before he was named to the university's top post, law professor Jim Gash helped free a falsely convicted teen in East Africa and became an advocate for justice reform.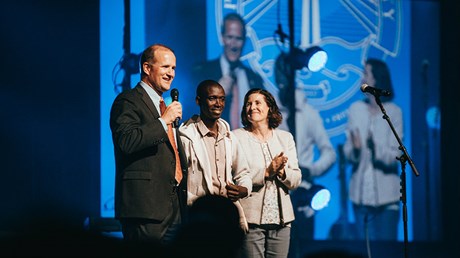 A few hours after Jim Gash's inauguration this fall as Pepperdine University's eighth president, his wife, Joline, showed up at her husband's fourth-floor executive suite with a Ugandan medical student.
Tumusiime Henry, 26, had flown nearly 10,000 miles to help celebrate Jim Gash's unlikely ascension to the top post at the 7,900-student university, which is associated with Churches of Christ.
Henry wore a black suit with a red plaid bow tie as he joined the Gashes in an office overlooking the Pacific Ocean—a postcard-perfect view flanked by Pepperdine's 125-foot-high monumental cross on one side and a smaller cross atop the stained-glass Stauffer Chapel on the other.
At the inauguration festivities earlier that morning, Henry had sat in the front row as a special honored guest among the thousands of students, dignitaries and faculty members dressed in academic regalia.
As Jim Gash, 52, will tell anyone who will listen, he never would have become president if he hadn't met Henry.
"It's all due to this young, brave man next to me," Gash said of Henry—the nickname by which the aspiring ophthalmologist is known in Uganda, an East African nation that doesn't have family surnames.
Jim Gash had a life he loved in Malibu, a coastal community about 35 miles northwest of Los Angeles. When the Pepperdine law professor reluctantly joined a global justice trip to Uganda a decade ago, he had no intention of ever going back.
"I was very interested in somebody helping there, but it wasn't going to be me," he said. "I went once … to show my wife and my kids and my God that I was willing to take a step of faith."
Three years earlier, Pepperdine …