Though far fewer Americans are writing off charitable donations, most ministries reported stable giving last year. Denominations saw the biggest decline.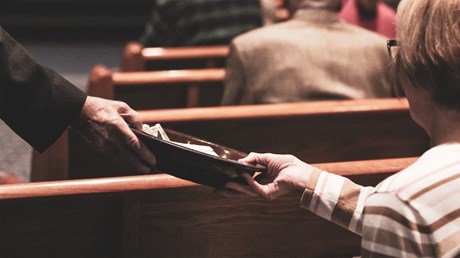 It will take months to tally the millions Americans donate to charity on Giving Tuesday. But analysts already know what kinds of charities are favored by American evangelicals—and that the GOP tax reform bill that went into affect last year has had an impact on giving.
Overall, cash giving to evangelical ministries held steady between 2017 and 2018 (the latest year for which data is available), declining 0.6 percent after six consecutive years of increases, according to a new report by the Evangelical Council for Financial Accountability (ECFA).
The virtually unchanged giving levels among evangelical ministries emerged despite a 6.2 percent decline in the stock market's S&P 500 index, which tends to mirror trends in charitable giving, and despite a 3.9 percent decline in overall giving to religion between 2017 and 2018, according to an analysis by Giving USA.
"I am pleased to see this ongoing support for Christ-centered churches and ministries," said Dan Busby, ECFA president and CEO. "This generosity positions ECFA members to continue their positive impact for their causes both domestically and internationally."
The State of Giving 2019 analysis from ECFA considered the finances of more than 1,900 of its accredited members and included $13.9 billion in cash giving. All year-to-year comparisons in the report were adjusted for inflation.
Despite some recent scrutiny over its role as a financial watchdog, EFCA itself has been growing, from 1,409 member ministries in 2009 to more than 2,400 today. (The year-to-year analysis relied mostly on audited financial statements and considered only ministries that were members during both years under evaluation.)
Eleven of the 26 ministry categories …