The New York pastor never wanted to build a megachurch.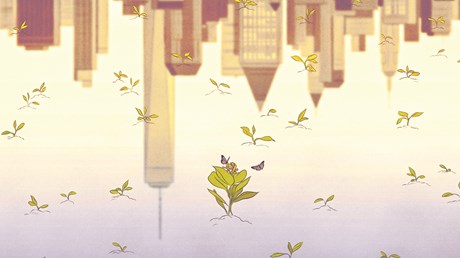 Redeemer Presbyterian Church's building on West 83rd Street in Manhattan does not call attention to itself. The Crunch gym next door has a bigger, louder sign and doors plastered with offers for memberships. Redeemer's building of glass and neutral brick blends into the buildings around it, except that if you look up, a cross shoots up above the fifth story. The church's founding pastor, Tim Keller, was reluctant to even buy it.
"For years Tim didn't want to be a megachurch," said Andrea Mungo, Redeemer's first staffer for its diaconate in the 1990s. "He wasn't interested in purchasing a building. For years it was, 'We want to rent so we can focus our money and energy into local ministry.'"
Keller, who died in May, was a globally known preacher, bestselling writer, leader of a 5,000-member church before before stepping down, and founder big organizations like The Gospel Coalition in 2007. He spoke before the UK parliament and at Google's headquarters. But for most of his adult life, he built small. His fame was derivative of his local church work.
People like Mungo—as well as Yvonne Sawyer, Justin Adour, Sobeyda Valle-Ellis, Peter Ong, and Mark Reynolds—aren't globally recognized names but were the faces of the local church in New York and then beyond. They built an ecosystem of local institutions that are carrying on Keller's vision of evangelicalism away from the spotlight. They planted churches and started community development organizations and counseling centers that are spreading the gospel and serving the disenfranchised.
Keller did not follow the American evangelical tradition of networking with the powerful, like Billy …