A recent poll suggests evangelical voters trust the former president more than religious leaders. But this problem isn't new.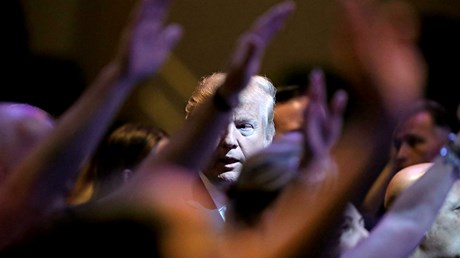 The four-bar graph of the CBS/YouGov poll results, which made the rounds on social media this week, was undoubtedly crafted to go viral, and go viral it did.
The chart showed that Republican primary voters who plan to back former president Donald Trump in 2024 find him to be the most trustworthy—ahead of conservative media figures, religious leaders, and even their own families and friends. Fully seven in ten said they feel that what Trump tells them is true, but only four in ten felt religious leaders merit the same trust.
Zoom in on white evangelicals who support Trump, and the numbers are even more dramatic. These figures weren't included in the main CBS report, but Kabir Khanna, deputy director of elections and data analytics at CBS, posted them on his own account.
Here, the percent who trust religious leaders moved up a bit, to 50 percent. But the percent trusting Trump moved up by a larger margin to 81 percent, the same number as the widely cited (if not wholly accurate) count of white evangelical votes for Trump in 2016.
This is not great poll data, as I'll explain in a moment. And as journalist Josh Barro observed, there's "a bit of drawing the bullseyes around the gunshots here—the finding is that people who trust Trump trust Trump." But there is some substance in this graph. It's another chapter in the story of an American crisis of church authority, and that's a tale which predates Donald Trump and will require our attention long after he leaves the political scene.
There are several problems with the data, and …