More than half of MLB teams offer an annual post-game program with worship and testimony from Christian players.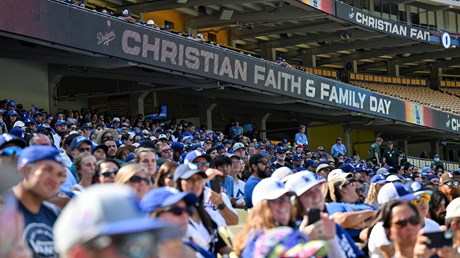 At 8:15 p.m. on a recent Saturday, Texas Rangers catcher Mitch Garver swung and missed at an 86-mph slider from San Diego Padres closer Josh Hader.
Garver's strikeout secured a 4-0 victory for the home team in front of 42,677 fans at Petco Park. Three minutes later, an electric guitarist and keyboardist from The Rock Church—an evangelical megachurch in San Diego—stirred on the Gallagher Square stage behind center field.
The church's pastor, Miles McPherson, sported a pinstriped Padres jersey as he grabbed a microphone.
"What's up? What's up? Y'all ready to worship the Lord?" said McPherson, a 1980s-era San Diego Chargers football player who developed a cocaine habit before dedicating his life to Jesus Christ during his NFL days.
About 3,000 men, women and children—almost all clad in Padres hats and attire—bought special tickets for the team's annual Faith and Family Night.
On a 74-degree evening, in the shadow of statues honoring Padres greats Tony Gwynn and Trevor Hoffman, attendees listened to praise music, heard testimonials from Padres and Rangers players and lifted their hands toward heaven in prayer.
"It's very nice to be able to celebrate our faith in public without criticism," said one of the fans, Nicole Soto, who is not related to Padres star Juan Soto.
Roughly 19 hours later—and 125 miles to the north—a similar scene played out at Dodger Stadium in Los Angeles. Except that the Dodgers lost their Sunday afternoon home game, 9-0, to the Cincinnati Reds before a disappointed crowd of 45,936.
Still, thousands of fans stuck around for a special postgame program on Christian Faith and Family Day, highlighted by a performance …