New rules integrate pastors into the military to help with physical and spiritual needs as fighting continues.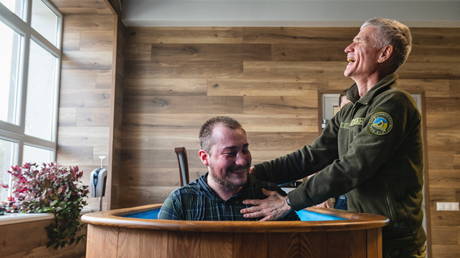 Of all the dangers of war, I didn't think about speeding until I was in a car of evangelical chaplains in the besieged city of Bakhmut, Ukraine. It makes sense. A slow car is an easier target. We were not a slow car.
But the speed is also a testament to the urgency these chaplains feel. There is so much to do. There aren't enough hours in a day. And the need grows with the war.
There were no chaplains in the Ukrainian military before. Pastors and priests would sometimes embed in a unit as civilians, but nothing formal. There wasn't really a need. That changed with the invasion. Facing an existential crisis as a nation has made many in Ukraine turn to religion. Fighting in the cities, suburbs, and countryside has turned soldier's thoughts to timeless things, prompting many to ask for chaplains. There are people who are hungry and hurting and alone. The chaplains are not going to drive slow.
The Ukrainian Chaplaincy Service was established in March. The first 30 who were trained were Ukrainian Orthodox, Eastern-rite Catholic, and evangelical. Only about 2 percent of the country is evangelical, but many Baptist, Pentecostal, and free church pastors across the country have volunteered to minister as chaplains.
By July, the Ukrainian military had 160 official chaplains. There are still a lot of volunteers too.
Vasily Povorozniuk, pastor of Compass Church in Zhytomyr, is one of the official ones. He drives more than 500 miles to the front to care for soldiers and the people who live near the shifting battle lines. Povorozniuk is a former military man who came to faith in a military hospital, and he's talked to his church at lot about Cornelius, the Roman centurion sent by an angel to the apostle Peter …