Decline in children's music ministries bodes ill for future, scholar says.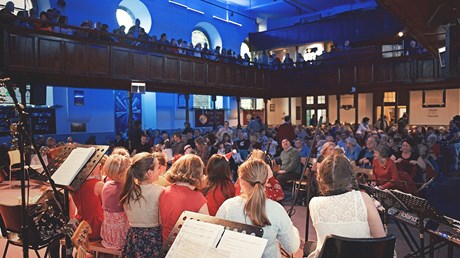 Southern Baptist Convention (SBC) music ministries seemed like they were thriving in 1938. The instruments in churches across the denomination were valued at more than $10 million (the equivalent of nearly $217 million today). Fanny Crosby was the most popular songwriter. And vocal quartets, especially male quartets, were in great demand.
But as the Sunday School Board of the SBC surveyed more than 1,000 churches that year, it noticed one dire problem. The SBC was facing a shortage of qualified music ministers.
"We must point out," the board wrote, "the greatest single need for a program of better music in Southern Baptist churches—the desperate need for well-trained choir leaders in the churches."
Eighty-five years later, some things haven't changed.
"There just aren't enough people out there to serve as worship leaders," said Will Bishop, associate professor of church music and worship at Southern Baptist Theological Seminary.
Bishop is the author of the first large-scale study of music in SBC churches in nearly 100 years. "A Snapshot of Southern Baptist Church Music: 2022," as yet unpublished, surveyed 127 congregations across the country, asking them 111 questions about the music in their worship services.
Bishop's work differs from the last big study of SBC music in scope and size. The 1938 survey had 1,381 respondents (out of 28,844 SBC churches) and asked each of them 24 questions. It focused on practical concerns like the total monetary value of the instruments in each church, the church budget for paying musicians and purchasing sheet music, the makeup of church musical ensembles, whether the choir was robed, and the use of mimeographed bulletins.