After Russia's withdrawal from Kyiv suburbs, Irpin evangelical ministries emulate the scattered yet persevering church from Acts 8.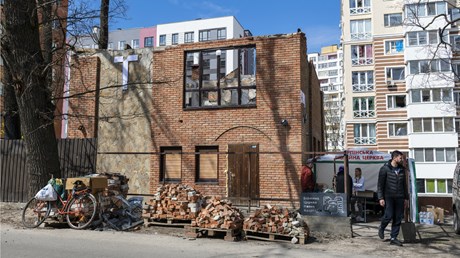 Ministry had been going so well in Irpin, Ukraine.
Over the past decade, the population of Kyiv's northwest suburb swelled to 90,000, and Irpin Bible Church (IBC) grew with it. The Baptist congregation grew to include 700 adults, with an additional 300 children. And in 2019, 12 members launched a church plant in the "New Blocs" neighborhood, where 15,000 Ukrainians lived in multi-story apartment complexes with no church of any kind.
Meeting previously in a basement office, last December the church planters purchased a stand-alone building from a local bank, grateful to have their own location amid a shortage of rental space. With a ground-floor capacity of 200 people, the congregation's 60 members anticipated additional growth.
Three months later, the Russians invaded.
Hostomel was the first suburb to fall, being home to the regional airport. The assault on Irpin and neighboring Bucha began February 27, attempting to encircle Kyiv.
IBC senior pastor Mykola Romanuk was in the US at the time, while his family relocated to western Ukraine. He returned on March 5, only to leave later that day when tanks first breached the suburb. The next day, a member of his congregation who had returned to Irpin to assist with evacuations was killed alongside a mother and her two young children—a tragedy witnessed and shared worldwide by The New York Times—as Russian forces shelled the humanitarian corridor.
By March 14, Russia occupied half the suburb, including the church plant's quarter. IBC's sanctuary remained secure, but 200 of its members fled to 20 nations across Europe, while another 500 scattered across western Ukraine. Romanuk was in Rivne, 200 miles west of Kyiv, with about 70 of his congregants. …