A church planting network in Edinburgh's poorest neighborhoods is flipping gender norms on their heads.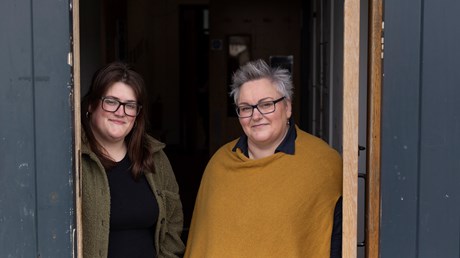 On a gray and crisp Sunday afternoon last year—it happened to be Halloween—I found myself crammed in the back seat of a black-and-silver Mini Cooper, jolting over speed bumps on the narrow streets of an Edinburgh suburb.
I was returning from lunch with the pastor of a church in a gentrifying housing project, or "scheme," southeast of Scotland's capital.
Suddenly my new friend Tasha, a 34-year-old native of the city's schemes, hit the brakes and rolled down her window.
"Hey!" she yelled, commanding the attention of a gaggle of middle school–aged boys. "What are you doing?" They were, in fact, throwing rocks at some second-story tenement windows. Tasha spent a minute or two chastising them, and the boys sheepishly moved on.
"I know them," she explained, but she didn't have to. I had already gathered that Tasha was well-known and respected in her community. Tasha, whose full name is Natasha Davidson, oversees women's ministry at the church I was visiting, Niddrie Community Church.
The congregation is part of a growing church planting network called 20schemes, whose leaders dream of starting or revitalizing 20 churches in 20 of Scotland's housing projects. They have six churches so far, with five more teams gearing up to plant. Schemes generally have a strong community identity and don't intersect with neighboring schemes. As a result, 20schemes has three churches within walking distance in three distinct communities.
Personally, I was drawn to 20schemes' focus on women. Throughout my life, I have been immersed in complementarian circles that valued women but also a theology of male headship in the church and home—first …