Anabaptist Bruxy Cavey preached "Jesus over religion" and drew record crowds of Canadians who were put off by traditional church. Now they're reckoning with their former leader's misconduct.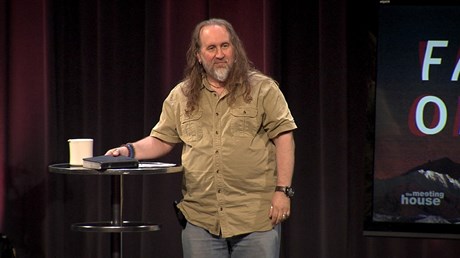 The Meeting House in south Ontario calls itself "a church for people who aren't into church."
Under that motto and the leadership of its shaggy-haired, proudly Anabaptist preacher Bruxy Cavey, the megachurch grew to become the biggest in the Toronto area, drawing thousands to its movie theater seats and home church small groups.
Like his denomination, Cavey was known for being apolitical and pacifist; he was an introvert who turned on the charisma on stage. During his 25 years in ministry, around 35,000 Canadians who had been disinterested, disenchanted, or hurt by other churches found a spiritual home and family at The Meeting House, and 8,000 still belong to the church, according to the Handbook of Megachurches.
This large community of members and former members is now grieving a blow they hardly expected from their own "megachurch pastor for people not into megachurch pastors," as one scholar called him.
After a three-month-long investigation, Cavey, 57, publicly confessed on Tuesday to an "adulterous relationship." The church said it amounted to abuse of authority and sexual harassment against a woman under his pastoral counsel, asked him to resign, and removed his teachings from its website. The victim and her advocates say Cavey committed clergy sexual abuse.
"In a way, the stakes were so high for Bruxy, and his crash is intensified because he promised us that he would not be that kind of pastor. … He basically was the megachurch pastor for people not into megachurch pastors," said Peter Schuurman, who profiled Cavey in his book The Subversive Evangelical and described him as gentle, generous, and good humored.
Bruxy preached a message of "Jesus over religion." …