Three years after repeal, evangelical leaders navigate pandemic politics to advocate for a more holistic approach rather than another culture war battle.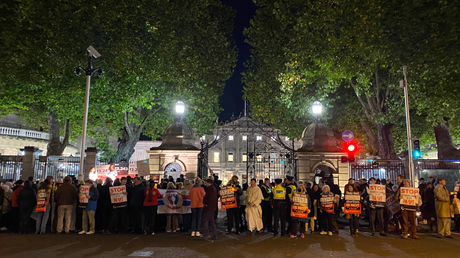 On the first cold autumn evening in Dublin's City Centre, more than 200 people gathered for a pro-life rally in front of Leinster House, the home of Ireland's parliament, Dáil Éireann.
In the three years since a national referendum legalized abortion in the country, Christian engagement around the issue has shifted and divided, particularly in the midst of clashing responses to COVID-19.
Now, the country's abortion law is being reviewed by the Irish government.
Megan Ní Scealláin, a leader with the nondenominational Life Institute, which sponsored last week's Rethink Abortion rally, said it sent a "message to the Dáil to say that this review must examine the actual facts of the abortion regime. We don't want a whitewash of reality, and the Irish people deserve an honest appraisal."
The group is calling for a full assessment of the number of abortions which have taken place since the 2018 law: 13,243, according to official government reports. A mandatory three-year review of Ireland's abortion laws is set to begin before the end of the year, with some politicians and abortion rights groups advocating for extended access, including the removal of the current three-day waiting limit.
Holding electronic candles and pro-life signs highlighting current abortion rates, demonstrators heard from Christian leaders, politicians, workers at local crisis pregnancy centers, and even the muffled pulse of a heartbeat in utero, through the help of a fetal monitor and microphone.
"It really does my heart good to see everyone out there on this cold night," Ní Scealláin told the crowd. "We're not for turning, we're not for …