Americans are rapidly giving up on church. Our minds and bodies will pay the price.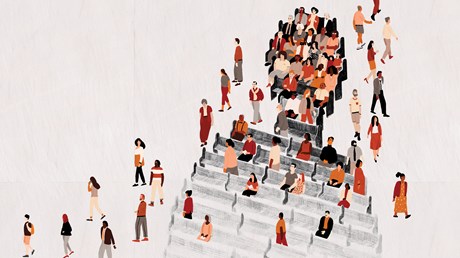 The Reverend William Glass is an Anglican priest and theologian, fluent in five languages and possessing an impressive résumé in marketing. His story isn't one of privilege, however. In Glass's view, the church saved his life.
Glass grew up desperately poor in a Florida trailer park. His family went to church perhaps once a year, but his religious background was, in his words, "Southern alcoholic." His father was either absent or abusive, he had no close friends, and when he attended school it was a torment. Barely into his teens, he began to manage the stress with drugs and alcohol.
But then Glass visited a Presbyterian youth group to "impress a girl." It didn't change everything overnight: He continued to have a rough life, including a brush with homelessness. But Glass also had friends in churches who took care of him during crises, helped him stay connected, and showed him another way to live.
As Glass sees it, church above all offered him "social and relational capital" that was in short supply in his fragmented communities. "The bonds I formed in church," he says, "meant that when things got bad, there was something else to do besides the next bad thing."
Glass's case might be a dramatic one, but it illustrates a documented pattern in our society: People find their social and personal lives improved—sometimes their lives are even physically saved—when they go to church often.
In 2019, Gallup reported that only 36 percent of Americans view organized religion with "a great deal of confidence," down from 68 percent in 1975. The study's authors speculate that this trend has been driven in part by the …