The Wheaton alumnus allegedly stopped paying his victim.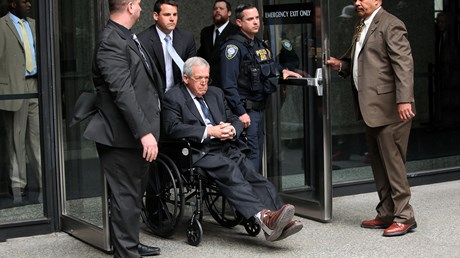 Former US House Speaker and Wheaton College alumnus Dennis Hastert has settled a lawsuit over allegedly unpaid hush money.
Hastert, once the highest-ranking evangelical in the Republican Party, was accused of failing to pay about half of the $3.5 million he promised in exchange for the silence of a man he sexually abused. The trial would have raised the unusual legal question of whether a verbal agreement to pay hush money to the victim of sexual abuse is legally binding.
Details of the settlement appear to be covered by nondisclosure agreements. According to the Associated Press, attorneys for both sides declined to say whether Hastert has agreed to make any additional payments, and if so, how much.
Jury selection was set to start on Monday, but the federal judge ruled that the accuser, known in court documents only as "James Doe," would have to be publicly named.
The man's representative, attorney Kristi Browne, said her client is comfortable with the resolution of the case, though money can only do so much.
"It's never over for a victim of childhood sexual abuse," she said. "It impacts them for the rest of their lives."
Hastert grew up in rural Illinois and became a born-again Christian as a sophomore in high school. After graduating from Wheaton with a degree in economics in 1964, he went to work as a teacher and wrestling coach at Yorkville High School, about 30 miles southwest of the evangelical college.
According to federal prosecutors, Hastert sexually abused at least four boys during his 16 years at the school, all of them between the ages of 14 and 17. "James Doe" was a 14-year-old student athlete at the time he claims Hastert touched him inappropriately in a …