Asian American Christian leaders reiterate concerns over using stereotypes as punchlines in Sunday school curricula.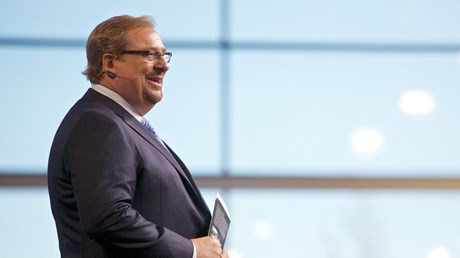 Saddleback Church pastor Rick Warren has apologized for a children's Sunday school curriculum video that used Asian culture stereotypes to teach kids about the Bible.
The video has been removed, but Michelle Ami Reyes, vice president for the Asian American Christian Collaborative, on Twitter described it as using Asian culture "as a prop for slapstick humor." The video, she said, blurs and dishonors "distinctions and categories of Asian culture."
In it, she said, a pastor wears a Chinese shirt, makes Kung Fu sounds and pretends to make sushi that he then spits out.
"There are layers to the problematic appropriation and use of Asian culture elements for slapstick humor here. This kind of humor only works because it's deprecating. But you cannot appropriate and deprecate on someone else's culture for your own personal comedy," she tweeted.
Warren, in a statement issued Sunday, apologized and said he was upset and embarrassed by the racially offensive content of the video. It was immediately taken down, he said.
"My instant fear was that the thousands of Asian American children who are a part of our church family would feel made fun of and that their families and so many others would rightfully be offended," Warren said in the statement.
Warren said the video showed a former Saddleback Church kids' pastor dressed as an Asian martial arts sensei "in an attempt to teach Bible truth."
Although the video was posted this weekend, Warren said it was created four years ago.
"This is the very kind of cultural and racial insensitivity that we're trying to eradicate in our church family," he said. "It's unchristlike, demeaning, and …