Michigan megachurch pastor David Dummitt, a Wheaton College and Asbury Seminary graduate, will start this June.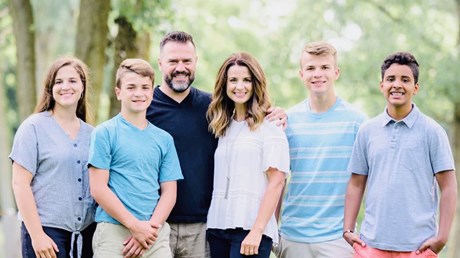 (RNS) — Willow Creek Community Church announced this evening that David Dummitt, a megachurch pastor from Michigan, will be the church's new senior pastor.
The announcement comes just over two years after founding pastor Bill Hybels resigned after being accused of abusing power and sexual misconduct.
Dummitt, 46, is the founding pastor of 2|42 Community Church, a Michigan megachurch with seven campuses. According to a statement from the Vanderbloemen Search Group, which assisted with the search, the 2|42 Community Church was founded 15 years ago by Dummitt and some friends and now draws more than 10,000 people a week to services.
Willow Creek has eight campuses in and around Chicago and in the past has reported more than 25,000 attenders. Before in-person service stopped due to the coronavirus pandemic, the church averaged 18,000 in attendance. The church now draws about 18,000 livestream views each weekend along with an additional 15,000 on-demand views, said a Willow spokesperson.
It has long been one of the most influential Protestant churches in America.
A graduate of Wheaton College who attended Asbury Seminary, Dummitt said in a statement he has long admired the work of Willow Creek. He called himself a "church kid who played in the handbell choir" while growing up and that Willow Creek taught him church could be different.
"As a freshman at Wheaton College, I'd heard about this church that was doing creative things to reach lost people," he said in a statement. "We attended, and I can almost point to the seats we sat in that day. The service opened with a Beatles song. … I don't know of a pastor or leader in America that has not in some way been shaped by the …