The ministry's temporary setup will help alleviate the anticipated surge in COVID-19 patients in New York.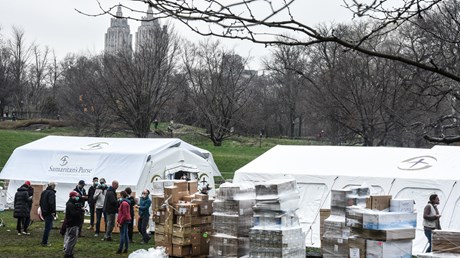 A series of white tents went up in New York's Central Park this weekend as workers assembled a 68-bed emergency field hospital for people infected with the coronavirus.
The field hospital, which is expected to open today, will allow Mount Sinai Hospital on 98th Street and Fifth Avenue—just across the street from the park—additional surge capacity as New York City grapples with an overstretched hospital system.
Samaritan's Purse also set up a field hospital in Cremona, Italy, in the hard-hit Lombardy region, where it has treated more than 100 people.
New York's death toll from the coronavirus surpassed 965 on Monday—the most of any state. It had nearly 60,000 confirmed cases of COVID-19.
Samaritan's Purse will staff the New York City hospital with 72 disaster response specialists from around the country, working as contractors for the organization. They include doctors, nurses, paramedics, lab technicians, and pharmacists, as well as a technical support crew.
"It's not only that New York is overwhelmed and has a lack of patient beds," said Kaitlyn Lahm, a spokesperson for Samaritan's Purse, the evangelical humanitarian aid organization led by Franklin Graham. "It's that staff are overworked. We will be fully self-sustained at the emergency field hospital."
The field hospital will have up to 10 intensive care unit beds with ventilators.
Several trucks left the organization's North Wilkesboro, North Carolina, warehouse Saturday morning and arrived in New York City that night. By Sunday, it had recruited dozens of New York City church volunteers to help set up the hospital. …