New Trump administration policy adds bureaucratic hurdles to "welcoming the stranger."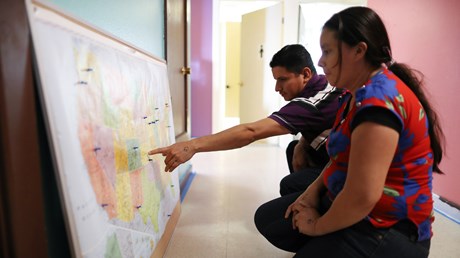 Faith groups are mobilizing in response to a new Trump administration policy that could prevent them from welcoming refugees and make it harder for refugees to reunite with family already in the US. Some refugee resettlement ministries are petitioning states, and others are suing the federal government as a December deadline looms.
President Donald Trump signed an executive order in September requiring state and local governments to opt in to refugee resettlement. Starting the day after Christmas, refugees will only be sent to areas where both the governor and a top county official have provided written letters to the administration saying refugees are welcome.
The additional layer of bureaucracy may mean that Christian ministries to refugees will not have more refugees to minister to. Resettlement groups may also be denied the funds necessary to help refugees adjust and build a life in America.
"This is a ministry that many churches have been a part of for decade," said Matthew Soerens, director of church mobilization for World Relief. "We don't want that ministry opportunity restricted."
The new policy would likely impact the work of Brainerd Baptist Church in Chattanooga, Tennessee, according to senior pastor Micah Fries. His 2,000 member church currently hosts a Sunday night ministry for around 150 refugee newcomers, helping them with language acquisition, job skills, and other adjustments in their first six month in the US.
The ministry doesn't end there, Fries said. The refugees often become part of the church community. If Tennessee Governor Bill Lee doesn't send the administration a letter opting in to refugee resettlement, no new refugees will be sent to Brainerd Baptist Church. …