Subject Matter Expert Available for Media Interviews As Holiday Season is Here
FOR IMMEDIATE RELEASE
FORT LAUDERDALE/DAVIE, Fla. – The holiday season is the perfect time of the year to talk about finances. This according to nationally renowned economist Albert Williams, Ph.D., associate professor and acting chair of finance and economics at Nova Southeastern University (NSU)'s H. Wayne Huizenga College of Business and Entrepreneurship.  He says it is easy to overspend during the holidays, and offer  tips to end 2018 on the upswing and some resolutions to keep your finances under control in 2019.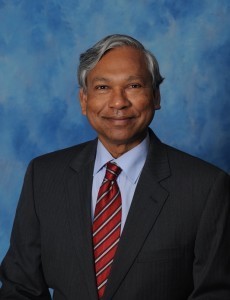 Dr. Williams' expertise is in personal finance, corporate finance, macroeconomics, microeconomics, and managerial economics.  For additional information about him click HERE
He has extensive experience working with the media on stories related to economics and personal finance.
Media interested in interviewing Dr. Williams should contact Julie Spechler at 954-591-3361 or julies@nova.edu .
The economist offers some tips to end 2018 on the upswing and some resolutions to keep your finances under control in 2019.
Financial recommendations for the end of 2018 (Tips)
Do NOT overspend for gifts, parties, travel, etc.

Do not borrow for the above and have to take all of 2019 or more to pay off the bills.

Last minute shoppers – stay on budget. 
Financial Resolutions for 2019 (Tips)
Keep a watchful eye on the economy!

Do not overpay taxes!

Take stock of your net wealth situation! Assets – Liabilities = Net Wealth

Take stock of your income situation. Income and expense.

Make plans, take action, and evaluate results!

Set financial goals and keep them.

Be specific. I will save $ 250 per month for the next 12 months.

Become more money smart. Get some financial education.

Learn from the experts. Get a financial coach, advisor – your money doctor. Everyone needs one!

Build financial confidence – get financial knowledge and make financial decisions with confidence.

Be smart when buying a car and/or a house.

Cut mortgage costs – make 1 more monthly payment per year to reduce

30-year mortgage by 9 years

Manage your credit better

Credit card – do not overuse – no maxing out!!!

PAY MORE THAN THE MONTHLY MINIMUM – TO CUT HIGH INTEREST CHARGES

Check your credit report carefully and fix any inaccuracies

Check on your insurance needs – life, health, and property.

Save, Save, and Save!!! – BUILD A CUSHION FOR RAINY DAY.

Invest, invest, and invest!!! – stocks, bonds, real estate, business, mutual funds, ETFs, etc.

Aging is a must! Do retirement planning from early.

Who is going to get what from your estate? Anyone over 50, please do not put this off!

HELP MAKE 2019 BETTER THAN 2018 – FINANCIALLY.
Be sure to sign up for NSU's RSS feed so you don't miss any of our news releases, guest editorials and other announcements. Please sign up HERE.
###
About Nova Southeastern University (NSU): Located in beautiful Fort Lauderdale, Florida, NSU is ranked among U.S. News & World Report's Top 200 National Research Universities and is a dynamic, private research university providing high-quality educational and research programs at the undergraduate, graduate, and first-professional degree levels. Established in 1964, NSU now includes 16 colleges, the 215,000-square-foot Center for Collaborative Research, a private JK-12 grade school, the Mailman Segal Center for Human Development with specialists in Autism, the world-class NSU Art Museum Fort Lauderdale, and the Alvin Sherman Library, Research and Information Technology Center, which is Florida's largest public library. NSU has campuses in Fort Lauderdale, Fort Myers, Jacksonville, Miami, Miramar, Orlando, Palm Beach, and Tampa, Florida, as well as San Juan, Puerto Rico, while maintaining a presence online globally. Classified as a research university with "high research activity" by the Carnegie Foundation for the Advancement of Teaching, NSU is one of only 50 universities nationwide to also be awarded Carnegie's Community Engagement Classification, and is also the largest private institution in the United States that meets the U.S. Department of Education's criteria as a Hispanic-serving Institution. For more information, please visit www.nova.edu.
About the H. Wayne Huizenga College of Business and Entrepreneurship: Serving more than 2,800 students, NSU's H. Wayne Huizenga College of Business and Entrepreneurship offers undergraduate and graduate degree programs in areas such as accounting, finance, human resource management, public administration, supply chain management and more. The college is housed in the five-story state-of-the-art Carl DeSantis Building on NSU's main campus in Fort Lauderdale-Davie, Florida. Programs are also available at multiple locations and online. For more information, please visit: www.business.nova.edu
MEDIA CONTACT
Julie Spechler | Office of Media Relations
Nova Southeastern University
954-262-5348 (office) | 954-591-3361 (cell)
julies@nova.edu | www.nova.edu | @NSUnews
---
---