Wary of West African war and Western sanctions, Christian minority in the jihadist-plagued Sahel region nervously prays for peace.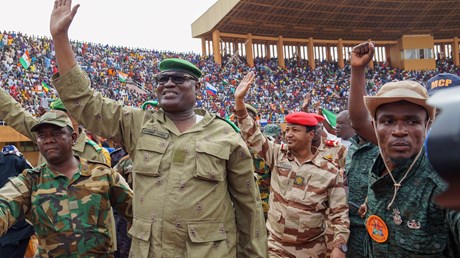 The military coup in Niger has now entered its third week. Four days after the July 26 putsch, the 15-member Economic Community of West African States (ECOWAS) threatened military action if democratic rule was not restored within seven days.
That deadline has passed, and leaders are still mulling their options while imposing sanctions against the junta, the group of military officials that seized power. But worried by the seventh coup in the Sahel region since 2020, the remaining democratic nations in West Africa believe they must draw a line in the sand.
Neighboring countries Mali and Burkina Faso, both with military governments after their own recent coups, have warned that any foreign intervention in Niger will be considered an act of war against them as well.
Niger suffered its last coup attempt in 2021, right before the elected president—now deposed—was sworn in. The former French colony had been the last bastion of Western military cooperation against jihadist militants in the Sahel, amid the expanded regional influence of Russia through its Wagner mercenary unit.
Niger, meanwhile, is the world's seventh-largest producer of uranium.
CT interviewed Illia Djadi, Open Doors' senior analyst for freedom of religion and belief in sub-Saharan Africa. Though he resides in London, he is a citizen of Niger, a nation which ranks No. 28 on the World Watch List of the top 50 nations where it is most difficult to be a Christian.
Djadi provided the regional context, described the difficult but improving situation of Christians, and issued a strong appeal against military intervention:
How serious is the situation in Niger right now?
I am very sad. As a Nigerien, I find the situation difficult to watch.
But as an analyst, …