A Supreme Court ruling against race-based admissions won't change much for Christian liberal arts schools.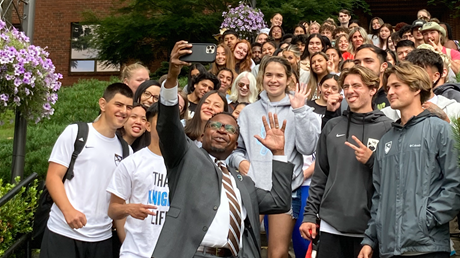 The US Supreme Court ruled against race-based college admissions last month, raising questions about the future of diversity efforts in higher education. But leaders at many evangelical colleges don't expect the decision to hinder their efforts to promote diversity.
"For most Christian institutions, I don't think there's going to be a significant change in our recruiting practices or our admissions policies," said James Steen, Houston Christian University's vice president of enrollment management.
Steen, who has worked in Christian higher education admissions for 30 years, said the Supreme Court's decision impacts institutions that are selecting students from a very large pool of applications.
"For the rest of us who aren't the elite privates or flagship publics, we're not turning anybody away, for the most part, who's admissible," he said.
Still, leaders of Christian colleges told CT they are taking this moment to clearly communicate the biblical heart behind the diversity efforts at their institutions. Pursuing a diverse student body, they say, is part of a larger mission and a critical way they seek to serve their communities.
At Houston Christian, for example, Steen said it's important the college reflect the demographics of Houston, Texas—"an extremely diverse city."
The college's student demographics track pretty closely with the demographics of Houston itself. About 42 percent of undergraduate students are Hispanic, 24 percent are Black, 19 percent are white, and 9 percent are Asian.
"When you walk around our campus, your tour guide probably isn't going to be a white student, right? You're going to see …