Like the TV show's characters, Pelagius and Augustine wrestled with this core human question.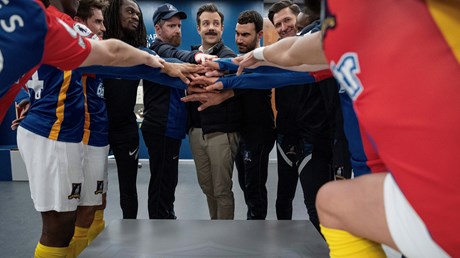 In a time when societal consensus, let alone advancement, seems painfully unattainable, the quirky television comedy Ted Lasso has struck a chord—as evidenced by its previous four Emmy awards and third nomination for Outstanding Comedy Series.
This soccer-themed runaway hit, featuring an unwitting Kansas football coach turned British soccer manager, premiered on Apple TV+ in August 2020 in the eerily uncertain early days of the COVID-19 pandemic. Over three seasons, and even with a major drop-off in quality in the third, the show has offered some welcome comic relief and a strong tonic for pessimism.
The series acknowledges how helpless it can feel to be human: "Yeah, it might be all that you get. Yeah, I guess this might well be it. Well, heaven knows I've tried," its theme song laments. But at the same time, Ted Lasso illustrates the transformation that can result when people resist acquiescence and challenge one another to grow. It resonates with viewers because it probes and, to some extent, gratifies a longing we all have: We want to see things get better.
At the heart of the show is a question one of the characters raises in the series finale. Roy Kent has just experienced a spectacularly abject failure in his efforts to improve himself. Overwhelmed with dejection and remorse, he is tempted to give up. Will he never learn? In despair, he confides his doubts to his friends and poses the question: "Can people change?"
Roy's confidants do not leave his question hanging, proposing three different answers.
The first comes from the savvy and sardonic reporter Trent Crimm, a man whose profession is dealing in cold facts: "I don't think we change per se as much as we just learn …