In a unanimous ruling, justices agree the city violated the First Amendment by keeping religious views out of a space being used as a public forum.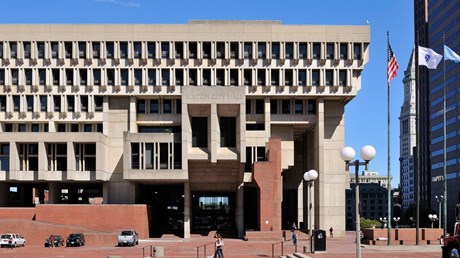 By hoisting 50 other flags up the city hall flagpole but turning down one Christian flag, the city of Boston violated the Constitution and denied a Christian group its free speech rights, the US Supreme Court ruled Monday.
The unanimous decision declared that because Boston's flagpole hadn't been used for government speech but as a public forum for hundreds of groups to use, the city discriminated against the group—Camp Constitution—that applied for the ecumenical flag to fly for a day.
"When the government does not speak for itself, it may not exclude private speech based on 'religious viewpoint,'" wrote outgoing Supreme Court justice Stephen Breyer in the opinion; "doing so 'constitutes impermissible viewpoint discrimination.'"
Christian religious liberty advocates are celebrating the ruling as a win, coming just over a month after the high court sided with the religious rights of a Texas death row inmate requesting prayer at his execution.
"In one of the last opinions Justice Breyer will ever write (he retires at the end of the term), he says, '…Boston's refusal to allow petitioners to raise their flag because of its religious viewpoint violated the Free Speech Clause,'" tweeted John Litzler, an attorney in Texas who represents Christian nonprofits.
"This is the 2nd of 4 different religious liberty cases being decided by SCOTUS this term. The decisions thus far have been 8-1 and 9-0 in favor of those asserting religious liberty claims. Freedom of religion & religious speech are not controversial or partisan issues."
Brent Leatherwood, acting president of the Southern Baptist …