The neighboring country focuses on hospitality while hoping Russian violence doesn't cross its border.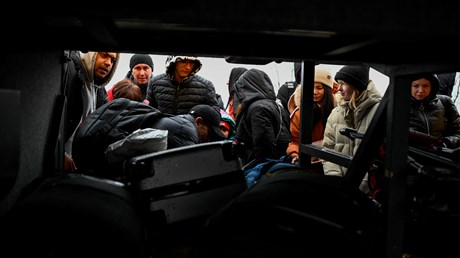 Eugen Cozonac has spent the past week focused on refugees.
More than 112,000 have crossed Ukraine's southwestern border into his home country of Moldova, a landlocked nation that's not much bigger than the state of Maryland. As a cabinet-level director with the government, Cozonac arranged facilities to receive donations and house refugees—everywhere from exhibition halls and sports complexes to film studios and resorts.
As he worked on Tuesday, his cellphones pinging from companies and volunteers, Cozonac paused to remember a certain group of refugees who had come to the capital city of Chișinău to escape an invasion from Russian-backed fighters: his own family.
It was on March 2, 1992—30 years ago to the day—that the Transnistria War erupted in the area now along the Moldova-Ukraine border. Cozonac was a kid at the time, fleeing with his parents and brother. Their house was bombed.
Like fellow Eastern European neighbors and the rest of the watching world, the people of Moldova did not expect the recent Russian invasion of Ukraine to happen so suddenly, to send a million people from their homes in just a week. But they have long known the threat from Russia.
On Wednesday, Moldova applied for membership into the European Union (Ukraine and Georgia have as well), and its president reiterated a call for Russia to withdraw the 1,000-plus troops that have remained in the country since the war three decades before.
Amid the escalating violence and the steady demand for humanitarian aid, Cozonac said he's been able to stay focused in because of his experience as a refugee and the faith he discovered then. During his family's displacement, Cozonac started reading a children's Bible and …