On what would have been John Stott's 100th birthday, we celebrate his life and legacy.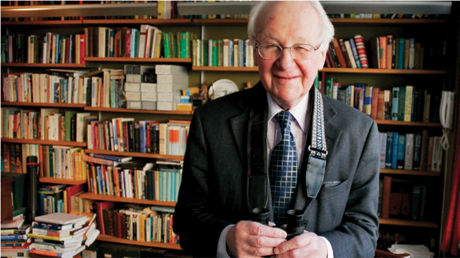 April 27th sees the hundredth anniversary of the birth of the great Christian leader John Stott, a man who helped and encouraged so many people across the world, including me.
John Stott was born in 1921 in London. He was naturally gifted, possessing a brilliant mind, an amazing memory and an extraordinary self-discipline. John was brought to a living faith in Christ at public school through the preaching of Eric Nash, and applied himself to his new faith with great commitment. At Cambridge, where he studied modern languages, John became deeply involved with the Christian Union.
He trained as an Anglican minister before becoming a curate at All Souls Langham Place, London, the church he had attended as a child. Throughout his ministry John remained based at All Souls; he spent thirty years there as curate and rector and then for over thirty years was based there as a writer, preacher and leader. John's passion for evangelism transformed All Souls and it became a focus for evangelical ministry in London and beyond. One notable emphasis of John's preaching from the start was the way that he didn't simply preach the historic gospel but also the need for Christians to apply it in their daily lives.
John had many talents and his ministry and influence soon spread beyond central London. Always having a strong interest in student evangelism John preached at university missions across the world for a quarter of a century. He wrote extensively, producing Bible commentaries, practical guides to Christian living and also important texts on how Christians should relate to the world. He wrote over fifty books and many articles, all distinguished by his scholarship, precise language, a solid biblical basis and a contemporary …