President of CNEF and COVID-19 survivor explains his renewed confidence to defend the faith and French evangelical churches, as well as why his mother now calls him "Lazarus."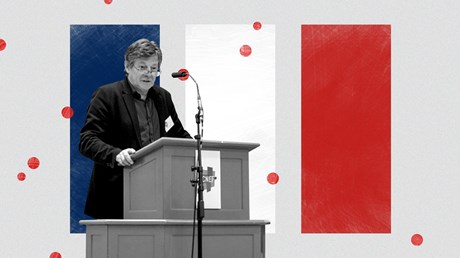 After spending three weeks in intensive care, Christian Blanc, president of the National Council of French Evangelicals (CNEF), shared his testimony of healing from COVID-19 in a cover story for French magazine La Vie.
CT interviewed Blanc on how the experience has "incarnated" the Bible's teachings in his life and his advice for how churches can better serve the sick.
Summarize your medical journey, including why your mother renamed you "Lazarus."
During February and March, my responsibilities as CNEF president meant I had to make several trips to Paris by train and plane and used public transit to move around, and it was during one of these trips that I contracted the COVID-19 virus. When the first symptoms appeared (dry cough and fever), I stayed home thinking that my condition would improve quickly. But it got so bad that I was in respiratory distress and had to be hospitalized. I ended up in the intensive care unit, where everything got so complicated in the following days that the medical staff were rather pessimistic about my future. A doctor even phoned my wife and told her that I was probably going to die during the night.
However, the very next day he called to say that everything was starting to work again, so there was hope. From then on, my recovery began and continued during the weeks that followed. When I came out of the ICU, I phoned my mother—also an evangelical—who was 300 miles away and thinking she would never see me again. When she heard my voice, she thought someone was playing a bad joke on her. I had to insist that I was indeed her son, Christian, whose health was improving. She replied: "I will no longer call you Christian but Lazarus. It's as if …