Most evangelical churches and ministries tightened budgets yet saw steady giving this spring.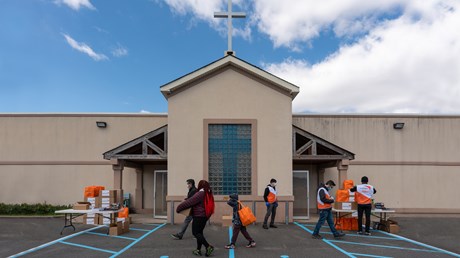 When the US economy shut down in March due to COVID-19, financial predictions for churches and other ministries were dire. But a new survey suggests those predictions may have been overblown.
Most evangelical churches and ministries saw giving remain steady or grow during the height of stay-at-home restrictions, according to a survey of more than 1,300 Christian ministries released last week by the Evangelical Council for Financial Accountability (ECFA).
Among those surveyed, total cash giving in April 2020 equaled or surpassed April 2019 giving levels at 66 percent of churches and 59 percent of nonprofits. An even greater percentage of churches (72%) and other Christian nonprofits (61%) said their April 2020 cash gifts met or exceeded January 2020 levels, when the economy was booming and the stock market's Dow Jones Industrial Average was approaching its all-time high.
Those healthy giving levels have translated into economic optimism. More than half of the leaders were optimistic about anticipated cash gifts in May through July, while 27 percent were uncertain, and just 15 percent were pessimistic.
ECFA analyst Warren Bird told Christianity Today that churches and other nonprofits with cash on hand may want to consider putting their "money to work in doing ministry" rather than continuing "to hold [their] breath in fear that [their] circumstance is unusual and the bottom is just about to fall out."
That's a different outlook than ministries had two months ago. The State of the Plate poll, released April 23, found 65 percent of churches had seen giving decreases since mid-March. "For pastors and church staff, there will be difficult days ahead," predicted State of the Plate founder …