From clean-up efforts to sermons against systemic racism, local pastors say an effective response requires they listen to the communities hurting the most.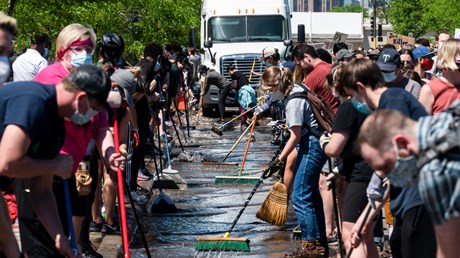 Dozens of evangelical churches are joining together to help Minneapolis as protests against racism and police violence rock the city and destructive riots devastate minority neighborhoods.
In the week after the death of George Floyd, local evangelicals have participated in the citywide response, donating food and supplies and rallying volunteers for clean-up efforts. But as church leaders consider the long-term needs that will contine when the news cycle and national attention move on, they've realized how important it is to work together to coordinate their responses.
"People want to just do something, but that doesn't mean we know what to do," said Shawna Boren, the engagement pastor at Woodland Hills Church in St. Paul. "We're really trying to be effective by listening to the churches in the neighborhoods that are affected and doing what they tell us to do."
Boren was one of more than 250 ministers who joined a Zoom call on Monday to discuss ways that churches can collaborate. The call was organized by Transform Minnesota, an evangelical organization that brings pastors together to wrestle with social issues.
The church leaders heard about specific community needs, like baby formula and hand sanitizer. They shared their exhaustion, after months dealing with the impacts of COVID-19. They talked about best practices for helping clean up after a riot, like checking in with community leaders before showing up in a neighborhood with a van full of people. And they discussed concerns about how helping could hurt.
"We don't need saviors. What we need are partners," Charvez Russell, a black Baptist pastor, told the group. "Yes, we need your help right now. Yes, we need …