We don't know a lot about the future. But we know the Lord does, and he cares. And in the meantime, we are called to glorify him by serving others.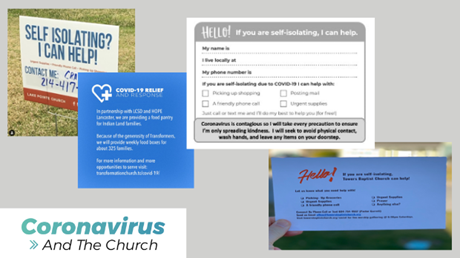 On March 23, I tweeted: "What is your church doing to reach out to the local community, the poor, and the marginalized during this time, while maintaining social distancing?" Responses have been encouraging and creative.
Scores of churches were represented by pastors, leaders, and members regarding their involvement in some version of food pantry, soup kitchen, or delivery to those in need. Most noted explicitly of their efforts to maintain social distancing. More than a few adjusted their ministry to offer to drop off groceries or supplies as people drove to them, while others delivered meals or food. Some provide the food as a church, while others encourage their community to pitch in.
Derwin Gray, pastor of Transformation Church in Charlotte, has led his church to provide food in a specific context: they provide weekly food boxes for 325 families in the Indian Land area.
But this is not something done only by large, urban churches. @scotteastman said his church bought hundreds of boxes of Cheerios to give to families driving through school meal pickup lines.
Pastor @matthewrstjohn from @NewHopeChurchMN gave a very encouraging testimony: @hayesplace said his church has volunteers coming in two-hour shifts of six people each to pack food boxes and deliver them to the elderly and immune-compromised in their area. @ypastorwolf serves in a farming community where they carefully provide fresh eggs, fruit, and vegetables for those in need. @jASONhAAGARD73 represents many who started a pantry in response to COVID19, in this case out of his own office.
Last year we gave out over 140,000 pounds of food to over 2,000 families from our community. Right now, we have many, many new faces–people coming for help. We have …