What if congregations don't comply with public health orders? We're about to find out.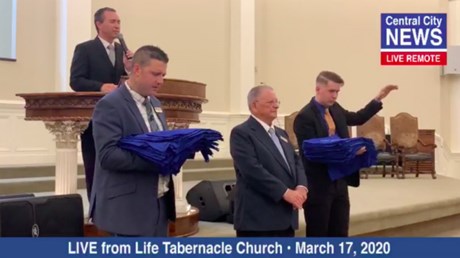 A pastor in Baton Rouge, Louisiana, says he will defy government orders intended to prevent the spread of COVID-19.
The Oneness Pentecostal congregation met on Tuesday, despite the declaration of a state-wide public health emergency banning gatherings of 50 or more people. Life Tabernacle Church plans to meet again on Sunday, setting up a possible legal clash between religious liberty protections and the state's authority to respond to a pandemic.
"The virus, we believe, is politically motivated," pastor Tony Spell told CNN affiliate WAFB. "We hold our religious rights dear, and we are going to assemble no matter what someone says."
The church typically draws more than 1,000 attendees on Sunday. About 300 gathered Tuesday night and the pastor posted a 25-minute clip of the service from Central City News on his Facebook page. Ministers passed out anointed handkerchiefs and Spell preached about fear.
"This is an extreme test brought on us by the spirit of antichrist and the mystery of lawlessness," he told the congregation. "What good is the church in an hour of peril if the the church craters and caves in to the fears and the spirits of torment in our society?"
Louisiana Governor John Bel Edwards declared the emergency on Tuesday, sharply limiting public and private gatherings of people in the state. Edwards, who is Catholic, is following the recommendations of the Centers for Disease Control and Prevention, which says the impact of the highly infectious coronavirus can be mitigated by reducing social interaction.
"I'm a person of faith," Edwards said in his public announcement. "I …