Given the Church of the Nativity closure and self-quarantine of tourists—including 13 Alabama Baptists—locals fear the economy won't be resurrected by Easter.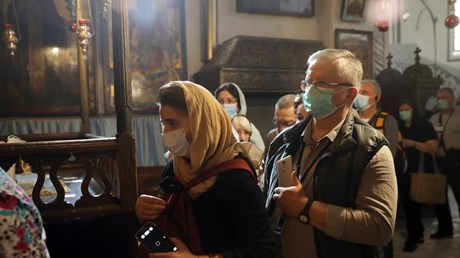 Visitors to Israel are now required to self-quarantine for 14 days upon arrival, according to safety measures implemented by the Israeli government in response to the global COVID-19 outbreak.
The new policy has put a major dampener on Easter pilgrimages to the Holy Land—where 6 out of 10 tourists were Christians in 2018—dealing yet another blow to communities heavily dependent on foreign visitors.
The dramatic plunge comes with "tragic consequences" for the region, where tourism is a significant piece of the economy, according to Munther Isaac, pastor of the Evangelical Lutheran Christmas Church in Bethlehem and academic dean of Bethlehem Bible College.
Since 2016, the number of tourists in Israel has increased each year, with a record-setting 4.5 million visiting the country in 2019 (an 11 percent increase over 2018). The industry pumped billions of dollars into the local economy.
But with 127 confirmed coronavirus diagnoses in Israel and 35 in the West Bank as of Friday—with many connected to the tourism industry—prospects for growth have been decimated.
Bethlehem's Church of the Nativity is blocked to visitors. The Dome of the Rock atop the Temple Mount is largely empty. And the Cana Wedding Chapel, a new tourist site targeting evangelicals, has seen numerous cancellations and no new reservations for the next two months.
"I'm terrified," said Saif Saboh, a Palestinian tour guide. "Any tourist could be infected." He toldThe Times of Israel that he no longer shakes their hands, and that many groups were canceling their visits.
Thousands of residents and foreign visitors are already living under quarantine. Churches and mosques have closed their doors. And …