Adults and youth well trained and serving confidently in every area.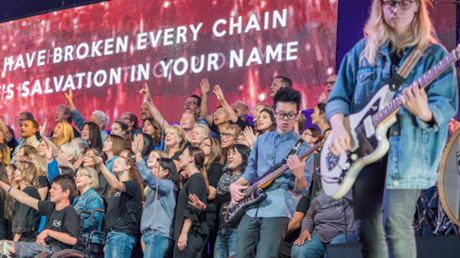 Visiting Saddleback Church is always a fascinating experience. I preached there again on March 21, the Sunday before Palm Sunday, which was actually the last week they met online. So preaching, then, doesn't make a particularly exciting blog post because basically, you preach in the studio. However, you are able to preach to perhaps over 100,000 people over the weekend services.
Now saddleback has moved back in person, though outside and with masks. However, in 2019, I had the privilege of preaching at Saddleback in what I now call the "before time" as in, before COVID.
There are lots of things that are always astounding at Saddleback and I'm thankful for the privilege to preach there a few times each year. The technology at Saddleback is amazing to me though I recognize it is out of reach for so many churches. But it is incredible how these volunteers have taken the time to learn the technology required to bring forth the kind of excellent streaming and other accessible resources the church has. Here is a picture of their technology.
Here are a couple of pictures from the back of the stage where that week they had a choir singing, you can actually see some of the members. No robes but certainly a choir and a full band that participated in the worship.
What particularly stood out was how they handled the youth service. They empowered what were clearly high schoolers to actually get up to do the announcements, welcome people, and more.
What made it particularly interesting to me was the amount of time I could tell that the adult volunteers had put in. They helped the student volunteers to both be confident but also be well prepared. They didn't just get up and stumble through the announcements; they …