Outreach may not bring white evangelicals and Catholics together, but hopeful Democrats are emphasizing the candidate's religious commitments.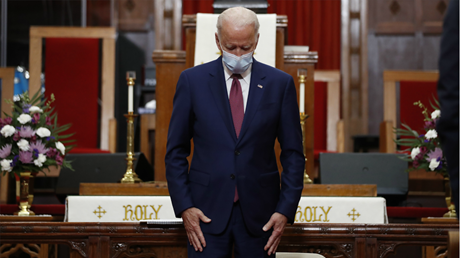 Going into the 2020 Democratic National Convention, party officials released a 60-second digital ad promoting the presumptive nominee's Catholic faith. The ad shows former Vice President Joe Biden making Pope Francis laugh during a meeting in St. Peter's Basilica and speaking with a group of smiling nuns on a street in Rome. In a voice over, Biden talks about the importance of his Catholic faith and how, for him, the nuns epitomized the church's teaching that "we are our brothers' keeper," a biblical idea that shapes his liberal politics.
The Democratic Convention tweeted the video to its 68,000 followers, saying, "This is the kind of moral conviction we need in the president of the United States."
It will not be the last time the Democrats spotlight Biden's lifelong Catholicism. A political action committee announced last week it will spend $50,000 on ads highlighting religious reasons to vote for Biden and the convention this week will feature a nun and a Jesuit priest in high-profile speaking spots.
Experts on the historically complicated relationship between American Catholics and evangelicals say this emphasis—primarily aimed at Catholic and mainline Protestant voters—may not help Biden win over white evangelicals, a core part of President Donald Trump's base. But it also won't hurt.
"He is viewed as having an authentic faith," said Richard Mouw, former president of Fuller Theological Seminary and professor of faith and public life. "He may not be the conservative Catholic that a lot of evangelicals would like him to be, but when he talks about his faith, it rings true."
Mouw was one of the signers of the historic ecumenical …