In the second half of the 20th century, each group used the other as a ticket to legitimacy at home and abroad.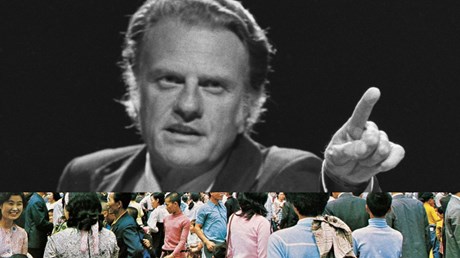 On June 3, 1973, Billy Graham preached before 1.1 million people at his largest crusade. This event did not occur in America's heartland or a major American metropolitan center like Los Angeles or New York. Instead, it took place in the South Korean capital of Seoul.
Next to Graham on the platform, acting as his translator, was Billy Kim, a South Korean evangelist who, like the revivalist, had ties to Bob Jones University. By the end of the message, 73,000 people would walk the aisle and make public decisions for Christ.
Graham's Seoul crusade was but one point of connection in the postwar era between white American evangelicals and their counterparts in South Korea. Two decades prior in 1950, World Vision—currently a multi-billion-dollar evangelical philanthropic organization—was founded in South Korea. A year later, Campus Crusade for Christ would launch its first international chapter by looking across the Pacific to a country establishing itself as a bastion of evangelical theology.
The relationship between these two groups—white evangelicals in America and South Korean evangelicals—is the focus of Helen Jin Kim's book Race for Revival: How Cold War South Korea Shaped the American Evangelical Empire. Kim, a religious history professor at Emory University, presents a largely unknown history of how postwar American evangelicals cultivated relationships in South Korea and used them to win acceptance within the religious mainstream back home. For evangelicals, it is also a convicting story that illustrates the corrupting influences of militarism, ethnic identity, and religious ideology.
The 'transpacific highway'
It is impossible to tell the story of early evangelicalism in …