Special legislative session ends without measures to prevent mass shootings at schools.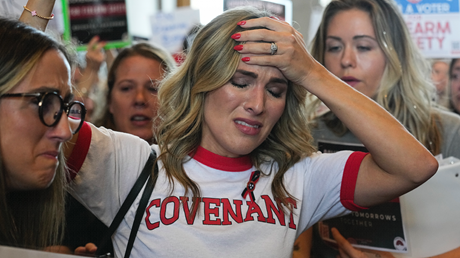 They hoped the Tennessee legislature would listen to them. They hoped the elected representatives would do something—something—to make their kids safer.
But at the end of the special session in Nashville on Tuesday, The Covenant School parents' hopes were dashed. The legislature didn't even vote on the bills that the families of children who survived a Nashville school shooting in March wanted to see made into law.
Wearing matching black T-shirts with the words "Get Used to Seeing These Faces," the cofounders of Covenant Families for Better Tomorrows wept at the Capitol. And at a press conference after, some of them spoke of how hard it was going to be to explain all this to their children.
"We will go home and we'll look at our children in the eyes," said Mary Joyce, whose daughter was best friends with one of the girls murdered at the Presbyterian Church in America school. "They will ask what our leaders have done over the past week and a half to protect them. ,
The parents vowed this defeat would not be the end of their activism. Melissa Alexander, whose fourth-grade son stood silently against a wall while a shooter killed three of his classmates, addressed elected officials directly.
"The shooter confronted our children with guns," she said. "Now you are stabbing our families and all Tennesseans in the back."
There have been 477 mass shootings in America so far in 2023. Gun violence is the leading cause of deaths for children over the age of one, surpassing automobile accidents and cancer. Tennessee has had 17 mass shootings this year, leaving 32 people dead and 59 wounded.
One of those shootings happened in March, when a person identified as …