While departing US congregations begin the process of joining the new, leaner denomination, many conservatives in Africa are holding out for the much-delayed 2024 conference vote.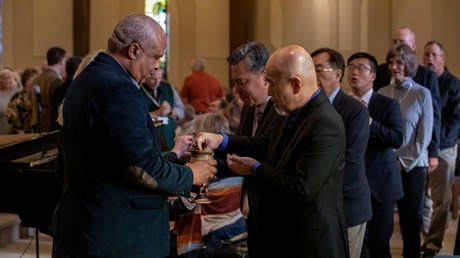 Methodist congregations that know their future is not in the United Methodist Church (UMC) officially have a new place to land: the Global Methodist Church (GMC).
Launching on May 1, the new denomination plans to uphold traditional, conservative Wesleyan theology but run on a lighter, leaner infrastructure that emphasizes grassroots accountability and ministry connections.
After years of delays, with the next opportunity to vote on a proposal to split scheduled for 2024, some UMC congregations in the US are starting the disaffiliation process and plan to join the GMC as soon as they can. And though many leaders in Africa—where Methodism is growing rapidly—align with the movement's conservative stances on LGBT issues, they're more inclined to wait.
At least one regional body, in Europe, has already decided to switch all its congregations over to the Global Methodist Church; in the US, the denomination's top court has yet to rule on whether regional bodies can disaffiliate together under current church law.
For now, US churches are opting to join the GMC one by one. Mosaic Church in Evans, Georgia, plans to join the new Methodist denomination, but the process to leave the UMC will take months.
From the pews, not much will change. Mosaic's name and logo will remain the same, as will the format for Sunday worship. Lead pastor Carolyn Moore will continue emphasizing Wesleyan theology in her sermons, and the church will continue its work partnering with ministries that help the people who, in Moore's view, tend to "fall through the cracks" of other churches. Even the pension plans for Moore and other staff members will still go through Wespath Benefits and Investments, the organization …