How the country's patron saint earned his reputation as a protector.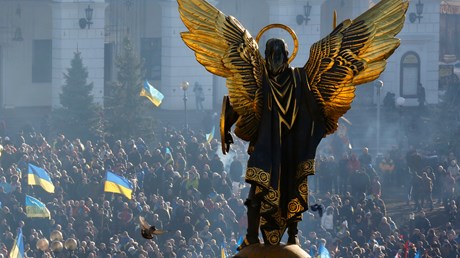 Days into the Russian invasion of Ukraine, one Ukrainian Orthodox leader reminded his church where they ought to direct their prayers.
"We perceive today that the archangel Michael, together with the whole heavenly host, is fighting for Ukraine. So many people from throughout Ukraine are turning to me and saying that they saw luminous angels over the land of Ukraine," said Major Archbishop Sviatoslav Shevchuk of the Ukrainian Greek Catholic Church in Kyiv.
"Today we pray, 'O archangel Michael and all the powers of heaven, fight for Ukraine! Cast down that devil who is attacking us and killing us, bringing devastation and death!'"
Images and tributes to Michael the archangel, the patron saint of the capital and the country, can be found across Kyiv. And although the brutality of Russia's attacks has left hundreds dead and sent millions fleeing the border, the Ukrainians have awed the world with their fight, resolve, and perseverance—spurred on in part, perhaps, by their admiration for this mighty archangel of war.
Perhaps the most recognized homage is a gold and bronze statue of the angel on an arch commemorating the Lach Gates in Kyiv's Independence Square, the city's primary fortification during the Mongols' siege of Kyiv in 1240. Brandishing his sword and shield, Michael's image is on Kyiv's coat of arms and shows up in many other places around the city. (The Soviet Union briefly replaced the celestial being with chestnut leaves before he returned in 1995.)
Kyiv also boasts a glorious public park, St. Volodymyr (or Vladimir) Hill, which includes a fountain dedicated to St. Michael. Its circular border incorporates dragons spewing water and depicts …