A former NASA R&D director contemplates how faith in God has shaped lunar explorations.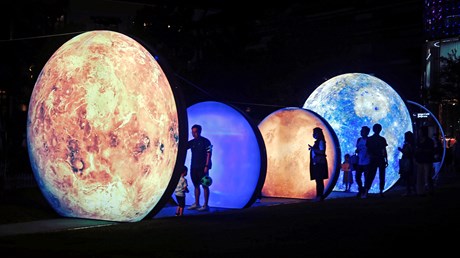 Before my retirement in 2021, I traveled regularly to speak at Christian conferences in America and East Asia. These preaching engagements often occurred during the Mid-Autumn Festival, which is a popular time for Chinese churches—whether in the US or in Taiwan, Hong Kong, China, and the Philippines—to hold special events. While I deeply enjoyed fellowshipping with these brothers and sisters in Christ, a part of me missed my family, especially when I found myself gazing at the beautiful full moon in the sky.
My fascination with the moon began in my youth. As a 14-year-old in Taiwan, I watched footage of Neil Armstrong stepping onto the moon on a neighbor's black-and-white TV. In that awe-inspiring moment, a secret dream to work at NASA was birthed within me, even though it seemed impossible at the time.
In 1987, God fulfilled my dream of working at NASA, where I eventually became a research and development (R&D) lab director. I've long regarded humanity's explorations of the moon not only as a scientific endeavor, but also as an exercise in trusting God, who has a remarkable way of weaving together our dreams and his plans for us into a tapestry more beautiful than we could ever imagine.
Over the moon
During the Mid-Autumn Festival, or Moon Festival, as it is known in the West, the moon is at its roundest and brightest, the autumn air is cool and dry, and Chinese families enjoy a time of reunion. The event, which falls on September 29 this year, occurs on the 15th day of the eighth month of the lunar calendar.
Many Chinese Christians observe the festival as a cultural celebration, resonating with its themes of familial bonding and gratitude. This emphasis is reminiscent of US and Canadian Thanksgiving …