Päivi Räsänen says quoting the Bible should not be a crime in a democracy.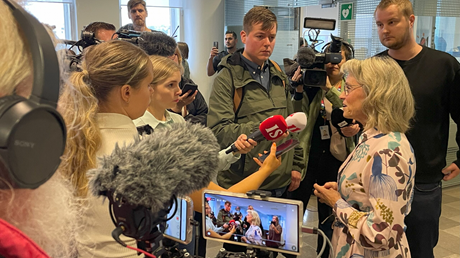 The facts are the same. The arguments, the same. But for two days in an appeals court in Helsinki, prosecution and defense rehashed the arguments that previously cleared Finnish politician Päivi Räsänen and Evangelical Lutheran Mission bishop Juhana Pohjola of charges of criminal incitement against a minority group.
State prosecutors argued there was a mistake last March. They say the district court weighed the evidence incorrectly, setting the threshold for "incitement" too high. According to them, a pamphlet the former minister of the interior published with a conservative Lutheran press in 2004, and comments she made about homosexuality on Twitter and on a national radio show in 2019, should be judged as hate speech.
State prosecutor Anu Mantila says Räsänen's comments are not only disagreeable and offensive, but harmful.
"Offensive speech has a damaging effect on people," she said.
Mantila said Räsänen's statements characterized homosexuality as immoral and as a psychosocial developmental disorder. Räsänen describes same-sex attraction as unhealthy and abnormal—something that requires treatment. According to the state, that "devalues and denigrates homosexuals."
"If you put all the statements together," she said, "it is clear that they are derogatory towards homosexuals. Condemning homosexual acts condemns homosexuals as human beings."
The prosecutor also argued there is no religious defense for that kind of hate speech.
"You can't say anything under the guise of religion," Mantila said. "You can cite the Bible, but it is Räsänen's interpretation and opinion about …