A new survey finds clergy well-being has become a more serious problem as the denomination splits.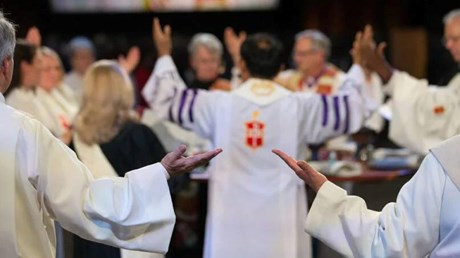 United Methodist clergy have been through the wringer in recent years, with a worldwide pandemic, a church schism, and the ongoing decline of one of the nation's largest Protestant denominations.
Those stresses have likely taken a toll on their health, a new report shows.
A survey of 1,200 United Methodist clergy found that half have trouble sleeping, a third feel depressed and isolated, half are obese, and three-quarters are worried about money.
Almost all of those measures have worsened in the past decade, according to the study from Wespath, which administers benefits for pastors and employees at United Methodist institutions.
Overall, United Methodist pastors feel worse and worry more than they did a decade ago.
"Even though we saw some areas of well-being improve in 2023 after very dismal results in 2021, the overall 10-year lookback tells us that clergy well-being, which was a problem a decade ago, is an even bigger problem today," said Kelly Wittich, director of health and well-being at Wespath, in announcing the survey's findings.
"We see that clergy struggle with well-being compared to their secular counterparts, in no small part due to the often unrealistic demands placed on clergy from multiple directions."
The study found that 11 percent of pastors said they are in excellent health, down from 17 percent in 2013, while 1 in 10 (9%) said they are in fair health, double the number from a decade ago.
The report did not indicate whether clergy age might be a factor affecting health outcomes.
More than half said the pandemic negatively affected their emotional (54%) and social health (52%). Fewer said their spiritual (26%) or financial health (23%) got worse.
Pastors …